Summer time is approaching, and we all know that the Summer Reading List is always a chore. Choosing books for tween boys is always a challenge. Multicultural books for tween and young teen boys is even more challenging. I asked for help from some of my online friends, and this cool list is the result.
Pam over at An Unconventional Librarian was quick to say "Anything by Walter Dean Myers." Considering his catalog is extensive and for all ages, I was pleasantly pleased with this recommendation. For my guys, I thought the titles listed would be great.
Walter Dean Myers The Cruisers
Eighth grade is hard enough, but when you're a Cruiser, you're really put to the test. The launch of a new middle-grade series from bestselling award-winner Walter Dean Myers.
Zander and his friends, Kambui, LaShonda, and Bobbi start their own newspaper, The Cruiser, as a means for speaking out, keeping the peace, and expressing what they believe. When the school launches a mock Civil War, Zander and his friends are forced to consider the true meaning of democracy and what it costs to stand up for a cause. The result is nothing they could have expected, and everything they could have hoped for. [More]
Walter Dean Myers with Rick Rossman Kick
For the very first time in his decades-long career writing for teens, acclaimed and beloved author Walter Dean Myers writes with a teen, Ross Workman.
Kevin Johnson is thirteen years old. And heading for juvie. He's a good kid, a great friend, and a star striker for his Highland, New Jersey, soccer team. His team is competing for the State Cup, and he wants to prove he has more than just star-player potential. Kevin's never been in any serious trouble . . . until the night he ends up in jail. Enter Sergeant Brown, a cop assigned to be Kevin's mentor. If Kevin and Brown can learn to trust each other, they might be able to turn things around before it's too late. [More]
Walter Dean Myers Down To The Last Out
Seventeen-year-old Biddy Owens is part of the Birmingham Black Barons baseball team and dreams of becoming a major league baseball player. However, in 1948 most black players can only play for the Negro Leagues. Jackie Robinson has just recently integrated and is playing for the Brooklyn Dodgers, but the white owners are reluctant to add too many blacks to their rosters. The Birmingham Black Barons are some of the best players in the league. But as they travel around playing ball, Biddy realizes that not everyone is ready for blacks and whites to play on the same team. Can Biddy prove he's good enough to be part of the game his loves, no matter what color his skin is? [More]
Michelle over at 2nd Place shared some great books featuring Native American and Latino perspectives.
Joseph Bruchac Code Talker
Throughout World War II, in the conflict fought against Japan, Navajo code talkers were a crucial part of the U.S. effort, sending messages back and forth in an unbreakable code that used their native language. They braved some of the heaviest fighting of the war, and with their code, they saved countless American lives. Yet their story remained classified for more than twenty years.
But now Joseph Bruchac brings their stories to life for young adults through the riveting fictional tale of Ned Begay, a sixteen-year-old Navajo boy who becomes a code talker. His grueling journey is eye-opening and inspiring. This deeply affecting novel honors all of those young men, like Ned, who dared to serve, and it honors the culture and language of the Navajo Indians.
[More]
Michelle also recommended short stories by Sandra Cisneros. I found this collection with some other Latino writers geared for teens.
Lori Carlson (Editor) Voices in First Person
Provides a collection of brief fictional pieces about the experiences of Latinos in the United States by such writers as Sandra Cisneros, Gary Soto, Oscar Hijuelos, Esmeralda Santiago, and others.
[More]
It's always good to know High School AP English teachers. One of my friends recommended one of my absolute favorite books, "The Color of Water" by James McBride. I would say a 12 – 13 year old would be ready to read this incredible story.
James McBride The Color of Water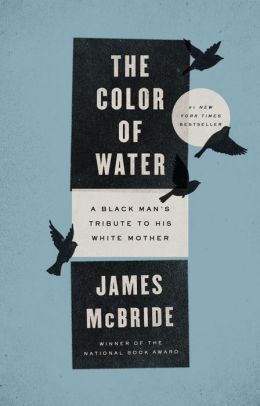 The Color of Water: A Black Man's Tribute to His White Mother, is the autobiography of James McBride first published in 1995; it is also a tribute to his mother. The chapters alternate between James McBride's descriptions of his early life and first-person accounts of his mother Ruth's life, mostly taking place before her son was born. McBride depicts the conflicting emotions that he endured as he struggled to discover who he truly was, as his mother narrates the hardships that she had to overcome as a white, Jewish woman who chose to marry a black man in 1942.
Ben Carson Gifted Hands
This book is a staple in our home. My husband actually purchased the children's edition for our boys to go through, but for tweens and young teens, this edition would be suitable.
In 1987, Dr. Benjamin Carson gained worldwide recognition for his part in the first successful separation of Siamese twins joined at the back of the head. Carson pioneered again in a rare procedure known as a hemispherectomy, giving children without hope a second chance at life through a daring operation in which he literally removes one half of their brain. Such breakthroughs aren't unusual for Ben Carson. He's been beating the odds since he was a child. Raised in inner-city Detroit by a mother with a third grade education, Ben lacked motivation. He had terrible grades. And a pathological temper threatened to put him in jail. But Sonya Carson convinced her son he could make something of his life, even though everything around him said otherwise. [More]
I read this book after hearing Wes Moore's story on NPR a few years back. And then I had the opportunity to take my sons to hear him speak this past January at a MLK observation service here in town. My guys were captured by his every word. If you have a son twelve and up, I highly recommend this book.
Wes Moore The Other Wes Moore
Thanks to Google and the Internet, it's now very easy and fairly common for anyone to search the globe for other people who happen to share their name. But Wes Moore found out about his namesake in the newspaper. In December of 2000, Moore had just been written up in the Baltimore Sun for receiving a Rhodes scholarship when he read that another Wes Moore was being sought in connection with the shooting of a police officer following an armed robbery that had gone awry. Moore eventually uncovered a trail of eerie similarities connecting him to the other Wes Moore–they were the same age, from the same neighborhood in Baltimore, each raised by a single mother, and each had been tempted by a life of crime. [More]
My dear online friend and children's author Christine Taylor-Butler highly recommended
Seedfolks by Paul Fleischman
A vacant lot, rat-infested and filled with garbage, looked like no place for a garden. Especially to a neighborhood of strangers where no one seems to care. Until one day, a young girl clears a small space and digs into the hard-packed soil to plant her precious bean seeds. Suddenly, the soil holds promise: To Curtis, who believes he can win back Lateesha's heart with a harvest of tomatoes; to Virgil's dad, who sees a fortune to be made from growing lettuce; and even to Maricela, sixteen and pregnant, wishing she were dead.
Thirteen very different voices — old, young, Haitian, Hispanic, tough, haunted, and hopeful — tell one amazing story about a garden that transforms a neighborhood. [More]
She also introduced me to a book that is due out later this month by Varian Johnson that looks fantastic and is getting a ton of buzz.
Check out this review from Kate Messner. I know my guys would love this since we all like the Oceans 11 movie series.
Pam also said "Anything by Jacqueline Woodson." Jacqueline Woodson's body of work is amazing. From what I found, these books would be worthwhile for my guys to explore.
Jacqueline Woodson Locomotion
In a series of poems, eleven-year-old Lonnie writes about his life, after the death of his parents, separated from his younger sister, living in a foster home, and finding his poetic voice at school. [More]
Jacqueline Woodson Peace, Locomotion
Sequel to the National Book Award finalist LOCOMOTION, the intense story of Lonnie continues through letters to his sister Lili, who is in a different foster home. The theme of peace pervades the book, as Lonnie describes his good experiences in his foster family, as well as meditations on peace as his concern for a foster brother in the army grows. Full of tenderness, growth, and the challenges and joys of his new family, Lonnie's thoughtful writing is compelling and revealing. [More]
Finally, this book was recommended in another conversation that I had with friends online. Check it out and the description. This is an amazing motivator for young men to read.
Sampson Davis, George Jenkins, Rameck Hunt, Lisa Frazier Page — The Pact

Chosen by Essence to be among the forty most influential African Americans, the three doctors grew up in the streets of Newark, facing city life's temptations, pitfalls, even jail. But one day these three young men made a pact. They promised each other they would all become doctors, and stick it out together through the long, difficult journey to attaining that dream. Sampson Davis, George Jenkins, and Rameck Hunt are not only friends to this day—they are all doctors.
This is a story about the power of friendship. Of joining forces and beating the odds. A story about changing your life, and the lives of those you love most…together.
Do you have any books you would like to recommend for tween and teen boys of color? Leave a comment or if you have a blog post you would like to share, leave your link in the linky below. The other Moms of #VoicesForOurSons will share their lists throughout the month.
You May Also Like: